This is Why
A testimonial written by two Grade 6 Fit4Defense students… It really says it all.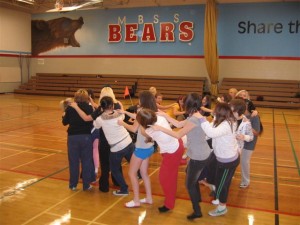 Have you ever got so mad you just felt like punching somebody? Or have you ever got so sad you just wanted to commit suicide? Well that is exactly what Fit 4 Defense teaches you to control and in an enjoyable way too. It is run by a number of trainers. During March the grade 6 and 5/6 classes at Quigley School participated in this program. Our instructor was named Michelle Tremblay and she is the best. She has 15 years of experience in Karate. After a traumatizing event that happened to her, she felt so sad, mad and very confused. She didn't know what to do, but then she became involved in karate to help her deal with her feelings. Now she is extremely good and shares her skills by teaching children the importance of self defense.
During our seven sessions with Michelle she taught us how to develop our physical and mental strength. When asked why she started teaching self-defense she responded, " Anyone can learn self-defense skills which teaches the physical skills that would enable a person to defend themselves in a confrontation but most importantly it teaches people how to be self-aware so they can permanently change attitudes and behaviours which helps to increase an individual's control over all aspects of life." The fact that Michelle loves teaching was very obvious because she made every session exciting. She did lots of things with us every time she came. She taught us how to get out of choke holds and some other basics such as kicks, strikes and various punches. However it was pointed out that we only use these moves to defend ourselves. Hopefully we will never need to use these, Michelle hasn't, but knowing how to has given her strength and confidence. Every time she came she told us what we were going to do and made sure we understood it. During every session we warmed up with fun games, and then we moved into the skill we were learning with time to practice, ending with a stretch and relaxation session. Fit4Defense has taught us a lot of cool things and we loved the experience.