Testimonials

"Fit4Defense is an amazing program that has helped with the overall climate in my school. Last year there was an amazing transformation at my school in terms of students accepting responsibility for their own behaviour and contributing to a positive school environment. Much of our success last year is directly related to the Fit4Defense program and the excellent work of the instructor (Michelle Tremblay). The students embraced the discussions and physical activity and more importantly embraced each other; barriers between students were taken down and students began to treat themselves and others with more respect and dignity. I did not hesitate to bring the program back this school year!"
Roland Holowaty, Principal, McNicoll Park Middle School, Penticton, BC
---
"From our perspective this training is an excellent motivator to engage young persons in fitness, sport and physical activities, which builds their confidence and encourages linkage to other community resources and activities".
Bev Siver ProMOTIONplus
---
"The students were constantly engaged in either a discussion, partner work, physical activity or hands on techniques. You could see the confidence build from the beginning to the end of the program. The investment in these teenage girls with this type of program has such profound effects for their own futures and who they can become one day. I felt like I was setting them up for success with tools and skills to use in their everyday life". Fit4Defense Instructor
"When the girls began the class they were not relating to each other in a positive manner and by the end they had become very supportive and encouraging."
Physical Education Instructor
---
"The well-structured lessons enabled the girls to assess their mental and physical awareness. They had great discussions, filled out questionnaires and brainstormed strategies on a variety of topics including; passive, aggressive and assertive behaviours. I would highly recommend this program to be offered to Middle and High School students as part of a P.E./Health and Fitness program."
Secondary School Teacher
---
"There are so few training opportunities of this kind that are so relevant to the day to day issues facing youth in their development."
Watari Research Association
---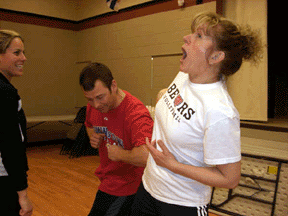 "This workshop provided a good mix between activity based instruction and curriculum discussion."
"What I liked about the Fit4Defense Manual is how much my students needs will be met with this program from the physical to the emotional, social and intellectual aspects."
"What I liked most about the workshop was both gaining new ideas and new ways to teach the usual activities with my kids in class. "
"There were excellent demonstrations of the fundamentals with lots of help and feedback during the instruction."
"I appreciated the knowledge and expertise of the instructors."
"After taking this workshop I decided that I would like to participate in teaching a course with a mentor."
Feedback from the Kelowna workshop.
---
This program is a 'Fit' for all ages!
The members of the Burnaby Confederation Seniors Centre reported in their evaluation how much they enjoyed learning the new skills taught in the Fit4Defense sessions. They found the information on being aware of their surroundings and how to prevent an incident most useful.
"I learned how to both defend myself and how to walk away"
Thanks to support from 2010 Legacies Now, the BC Sport Participation Program Fit4Defense Program has trained over 1000 children and youth in the past year in schools and community programs across the Province of BC.
---
"I enjoyed the opportunity to take part in the Fit4Defense course. I learned techniques to defend myself from an attacker. I learned that I have the right to say, "yes" and "no", or to change my mind. I learned the difference between assertiveness and aggressive and boundaries. I enjoyed learning all the vital striking points on the human body. The safety strategies have made me more aware to keep myself in safe situations. I felt that the instructor made me comfortable in a group setting where I knew no one. The class was fun, not boring, and she made me feel more confident in myself. She also made it easier to understand that it's okay to be a part of a group even though you don't know anyone. I really enjoyed myself and have since signed up for karate. I like to thank Michelle for going out of her way and greeting me at my first karate class, and making me feel right at home."
Jamie Munro, February 2012