More Kudos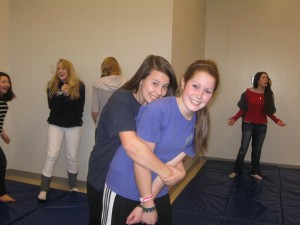 This letter is a written expression of the importance and magnitude that a program like Fit4Defense has had on the students at KLO Middle School in Kelowna BC.
Michelle Tremblay has been committed to coming to KLO now for several years. Her program, her personality and her passion that she brings to our students as she delivers her program is top notch. The program design lends itself to meeting many of the prescribed learning outcomes for students in the middle school. It teaches rights and responsibilities, assertiveness, empathy, self-esteem building, anti-bullying, anger management and in general is great for overall fitness.
Fit 4 Defense is a well-developed program that lends itself to both boys and girls. The feedback from students is so positive and they feel that Michelle is an integral part of what makes the classes so fun. Most of the girls I teach would prefer to have more classes to explore the program further.
Michelle Tremblay is an amazing instructor who uses her personal experiences to support her lessons and her perspectives of what is being taught. The students look to her for guidance, private support and encouragement to be the best they can be.
I fully recommend Michelle and her Fit4Defense program for all areas in schools, community centers and health organizations.
Please feel free to call me at any time for further comments or questions you may have regarding such a worthwhile program.
Regards,
Jody Cronquist
Teacher, lifelong learner at KLO Middle School
February 29, 2012