Instructor Training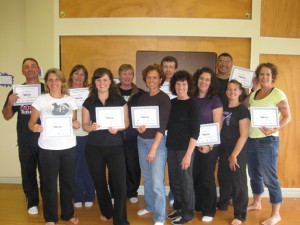 If you are already a certified Fit4Defense Instructor and would like access to resources and further information, please click here.
The Fit4Defense Program facilitates full day Introductory Instructor Training Workshops nation-wide utilizing a 'train the trainers' model. Training is designed to provide participants with a comprehensive process for acquiring the knowledge and skills to plan and lead Fit4Defense classes in schools, youth groups, community centers and youth service agencies.
Following the Introductory Workshop, interested participants are selected for Instructors' Certification Training Workshops covering more in-depth instruction techniques, group facilitation, behaviour management and program facilitation. Individualized Mentorship is provided following the workshops. Mentorship offers one-to-one support to assist new instructors to gain confidence as they deliver the Fit4Defense curriculum in a school or community setting. The Instructor Certification Program includes approximately 20 hours of training and mentorship. With experience, Certified Instructors can become Master Trainers to deliver the entire Fit4Defense Program in their community.
To get a full overview of the curriculum, please click here.
The Fit4Defense Certification includes:
- The Fit4Defense Training Manual
- The Fit4Defense Instructors' Certification Manual
- Ongoing One to One Mentorshop and Support
- Marketing and Promotion Material
- Refresher Training
- Opportunities to Teach/Mentor Classes and Workshops
- Master Training
Classes and workshops are offered in middle and secondary schools and community centres as well as for high-risk youth groups in community settings. Customized Fit4Defense adult classes are also available (special needs, women's and seniors).
Fit4Defense aims to build the capacity within local communities to sustain the benefits of violence prevention and assertiveness training.
Why Teach this Course?
- Prevent bullying and violence
- Increase safety
- Foster a sense of well-being
- Reduce risks
- Increase physical fitness
- Encourage participation in community-based sports, martial arts and fitness programs
Who Can Teach This?
- Physical Education Instructors
- Recreation Specialists
- Martial Arts Instructors
- Youth Workers including Youth Justice
- Other Educators
Program Outcomes
- Demonstrate increased fitness levels
- Describe self care behaviours
- Describe coping strategies for anger management
- Involvement in ongoing sports activities
- Identify risks and create safety plans
- Increase self-confidence and improve well being
- Demonstrate assertive communication
- Participate in other community resources and activities
- Demonstrate peer and community leadership
Training Objectives
- Teach life skills, leadership skills, physical techniques, exercises, assertiveness and anger management
- Assist students to identify their strengths and challenges, perceive triggers and cues, practice assertive communications and neutralize potentially violent situations without harm to self or others in aggressive and potentially dangerous situations
- Counteract psychological effects of feelings of powerlessness through enhancing self esteem
- Increase a sense of well-being through the identification of safety and self-care strategies
- Educate youth about benefits of self-defense, physical activity and sport and provide a list of local resources and choices.