Comox runner raising awareness following attack
Would you be prepared for a surprise attack? Read this moving story as it appeared in the June 9, 2017 edition of the Comox Valley Record. Fit4Defense can ready you for just a situation.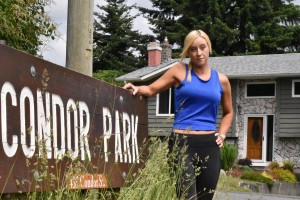 Last August, Chantal Swayze left her Comox home for a run in hopes of clearing her mind.
It was an unusually warm day, and was looking for a shady area in Condor Park – a small forested area in between residential streets – to cool down.
Less than 10 minutes into the run, she heard a noise, then found herself on the ground, bleeding, and a man with his pants down standing over her.
"I felt someone jump on me like a backpack and he tried to put a rear naked choke on me … I remember thinking: 'I didn't know what was going on.' I just knew enough to get my hand in before I fully blacked out."
Swayze, 35, was attacked from behind by Kannon Jones, whom she learned in court, was perched in a tree in the park watching pornography when he saw her enter. She managed to get out of the chokehold and turned to face him, and a fight ensued.
"He got on top of me. I just kept thinking, 'just keep punching. Just scream and punch and hit him as hard as you can,' " she explains holding back tears.
Swayze says she immediately found her fight instinct, and chased him, gaining with every step until she realized she was bleeding from the side of her head.
"I stopped and called my husband screaming and later on I realized during the fight I had pocked dialled my husband who days later checked his voicemail and heard all that. I don't think he will ever forget that voicemail, nor recover from hearing it. (But) I feel stronger now … I'm happy he's in jail."
She does believe she was not specifically targeted by Jones, as she runs various routes, but rather it was a situation of being at the wrong place at the wrong time.
∙ ∙ ∙
Jones pled guilty in November 2016 and was sentenced in April to three years (minus time served) in custody. On Thursday, Swayze attended court for the last time to request an automatic publication ban (put in place to protect the victim) be lifted in order to share her story.
"I don't want him to do this to anyone else. I feel like he learned not to prey on the fit jogger going through the park, so my fear is that he'll prey on someone weaker (without) the ability to fight back."
Swayze says it was important for her to lift the publication ban for a variety of reasons, but her daughter is at the top of her mind. She too is a jogger, and the night before the attack, she had been running in the same area.
"My whole thing was thank goodness it was me and not her. If I can raise awareness for martial arts, running without headphones, for running with a dog, for not running alone, I hope to do that. I think running through any bushy area, we all think cougar, bear. A person predator would be the last thing on our mind."
Swayze saw Jones in person the first time since the attack at her first court appearance last fall. Shortly afterwards, she ran though the park for the first time since the incident to prove to herself she could do it – it was something she had to do.
"I did it very fast. But I did it."
While she admits she's now more mindful and even uncertain running in Comox, she tries not to allow those thoughts to enter her mind. She has been experiencing nightmares for quite some time, and says small things, such as wearing a hood, is something she can't do.
She suffered from a concussion and received staples in her head, but credited her "huge support system" from not only her family and friends, but the larger community.
"As much as I hated what happened, and that I hated that it happened in Comox, I was so proud to live in the Comox Valley after it."
And I don't want him to be able to hold his head up high. I want everybody to know that face when he walks into the grocery store."